As I mentioned in an earlier post, I decided to head out to L.A. for a last minute trip and, although it might be hard to believe, didn't spend all my time at museums.
Hiking
There was a trail not far from my brother and sister-in-law's place. It felt good to walk, talk, and be close to nature. We also saw some cute ducks.
Little Tokyo
My friend and I stayed in this part of town, in fact right across the street from the ramen place my brother and sister-in-law went to a few years ago. Our hotel was pretty nice. Not too expensive, simple, and clean.
Our other friend, who is an excellent concierge-on-the-go, mapped out several places we could visit, including Fugetsu-Do, a mochi shop which has been open since 1903; a bakery where I picked up a cheese croissant and coffee roll for breakfast; Daiso, a kind of dollar store, where I got a beauty mask for fun; and the supermarket next door, where I got a blueberry cream cheese sesame bun.
The verdict on all those buns? My favorite was the blueberry cream cheese sesame, second the cheese croissant, and last the coffee bun, which was pretty boring.
This was a fun part of town with lots of cool graffiti. A few highlights.
We came here not for a show but to check out the cool architecture as designed by Frank Gehry: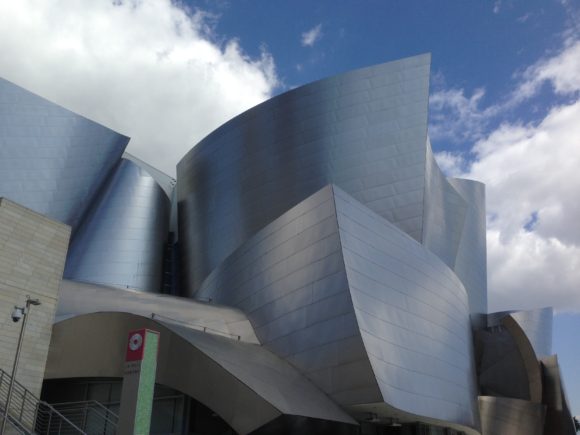 We went inside and there turned out to be a free audio tour, as narrated by John Lithgow. It was pretty interesting. Disney's widow was very involved with the design. In the rooftop garden is a sculpture inspired by her love of roses and Delftware.
We rushed out here via Uber about an hour before it closed. But that turned out to be plenty of time. We peeked through a couple of telescopes and saw one star which I can't remember and the a double star in Orion's belt. We also had a lovely view of the city. Inside a whole mob of people were waiting for the Tesla coil to do its thing. Later my friend explained there's a scene in La La Land involving that.
Our Uber driver had warned us it would take a year for us to get another Uber out there to take us home so he generously offered to turn off his app and wait. Not too big of a deal since we only took about half an hour. Either way it was wonderful to have a car waiting for us to take us back to our hotel.
Escape room
It was my first time doing this and I had loads of fun with my brother and sister-in-law. At first I was like, "This is so hard!" and couldn't figure anything out. But the clues helped. Eventually I was able to figure out a couple of things, one of which I kept wondering, "Is this real? Am I making up this pattern?" But when I finished a key fell out of the thing I had been messing with. I was so excited I jumped up and down. In the end we were able to accomplish the goal — in our case, breaking into a safe to steal diamonds — in time.
Next up: eating and drinking my way through L.A.