A couple of friends and I were supposed to go on a "girls' getaway" last weekend. Unfortunately we couldn't find a reasonably priced place to stay so that plan got scrapped. But I still spent a few days with my bestie in Boston.
The Greek
I got an early start to the weekend by taking Friday off and going out Thursday night.
Another friend and I met up for drinks and apps at the Greek in Tribeca. It's a little pricey but the cocktails and food are yummy. I was trying to choose a cocktail when the bartender suddenly took the menu from me and said, "I will make something for you." Oh um okay. I thought he was going to custom-make something because he overheard my lamenting the fact that they no longer had their ouzo-based cocktail, but it was just a cucumber and gin one off the menu.
I mean, it was good, but not what I would have chosen. Although the garnishes, Mexican cucumbers which look exactly like watermelons, were so cute. For a nosh, I had the keftedes, Greek meatballs. Yum!
The movie we saw was Girls Trip. It was enjoyable. All of the actors were good, but Tiffany Haddish was ridiculously engaging and hilarious.
Boston Burger Company
I got into town about one on Friday, and was starving despite the plethora of snacks I had brought on the bus. I was craving a burger, and this place was right near the subway station where we met. I got the Killer Bee, which comes with a stack of BBQ sauce-covered onion rings:
I swear there was an actual burger under there.
We also shared some garlic parm fries. Really hit the spot.
Fuller Craft Museum
My friend told me how when her mom visited the previous weekend, she barely wanted to do anything. She just wanted to hang out, run errands, and help my friend organize and clean her condo. I was like #weekendgoals! and decided I wouldn't pressure myself into doing a million "fun" activities.
We did just one: visit the Fuller Craft Museum.
I enjoyed their quilt exhibit, which was different interpretations of what's called the Bull's Eye pattern. I ran into a lady who remarked that while the quilts were beautiful, hardly anyone would have room to hang one on their walls.
"I guess you're right," I said. "But you could throw it on your bed."
"You mean use it as a blanket?" the lady asked, seemingly flabbergasted by the idea.
"Well yes. They're quilts."
"No, they're not." She pointed to the adjoining room. "Those are quilts over there. These aren't quilts."
"Yes, they are. They're part of the same exhibit."
"Oh." She looked around. "They would make beautiful quilts."
Yes, because they're literally quilts.
Anyway, I also liked their permanent collection as well as the Amber Cowan Re/Collection exhibit:
What she does is take vintage glass and glassworks, and either work them into new pieces or recreate and reinterpret them. The pieces were an interesting mix of whimsical, erotic, and borderline grotesque.
The only downsides to the museum were that I was hungry and freezing the whole time. I knew it was going to be cool but I didn't realize how cool, and while I had long pants, I didn't have a heavy enough jacket. I would have brought a Cliff Bar for a snack, but we assumed they'd have a cafe. A woman said they used to but not anymore.
IKEAn cuisine
Besides the museum, we mostly just shopped. Friday afternoon we hit two shoe stores (I bought two pairs of shoes), Old Navy (a cute top and dress), and Bed, Bath & Beyond. Saturday, we went to IKEA.
After two hours of starving at the museum, I was really happy to chow down on some Swedish meatballs.
I got mine with the sides that come with the veggie balls. The vegetables, green beans, were the same, but instead of mashed potatoes, I got a quinoa and farro mix. We also got dessert, this delicious chocolate and hazelnut cake.
Ah, Brockton, the home of exotic IKEAn cuisine.
Eating and drinking at home
In the continued theme of a chill weekend, we ate the rest of our meals at home. Friday night my friend made scallops in a cream sauce over pasta; Saturday morning we had a hearty brunch of scrambled eggs, chicken sausage, and toast; and that night we had some random snacks after our late lunch at IKEA.
We also drank quite a bit of booze.
Absinthe
My friend was on purging spree and determined to get rid of a bunch of liquor, one of which was the absinthe she bought on our trip to Prague many years ago.
Following some instructions from the Internet, I divided the small bottle into two glasses and slowly added some sugar. You're supposed to melt the sugar slowly over a slotted spoon, but of course we didn't have that and made do with fast-melting sugar. I sprinkled it in very slowly and kept stirring. Still, it wasn't dissolving.
After a while I gave up and took a sip. It was SO STRONG. Like burn-a-path-of-fire down my throat strong. I looked up what kind of mixers to use with absinthe and found other instructions that said to add water. Oops. I added a little, which lightened the taste (although it still had a kick) and finally dissolved the sugar.
The absinthe got us tipsy but we weren't freaking out. It did feel different from other alcohol. The word that keeps coming to mind is a "waviness." My friend kept saying she felt warm throughout her body. Later when I looked in the mirror, I saw that my eyes were SO RED. I don't think my eyes get red from other alcohol.
Becherovka bitters and Kavalan whisky

The next night we tried this, another Prague purchase. I followed a Czech mule recipe, which includes ginger beer and lime. At first I put just one ounce of the bitters, but because their alcohol content is so low, the cocktail mostly tasted like ginger beer and lime. We added at least another ounce.
It was slightly stronger, but not by much. That's when I decided to add the Taiwan whisky that I had brought.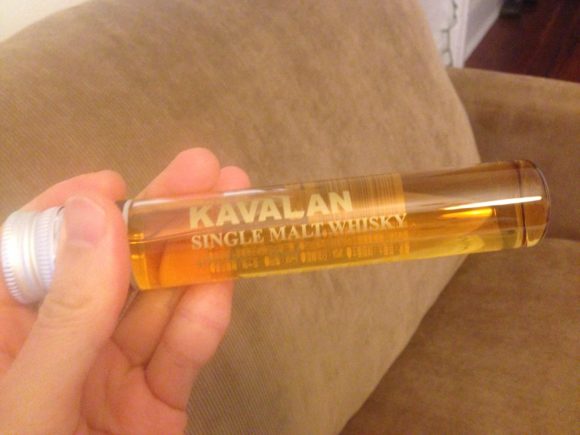 I tried it straight first, and it was yummy. While my friend drank hers neat, I dumped mine in my cocktail. It wasn't terrible but not fabulous either. Still, I drank most of it, and it did the trick.
Cherry rum and Dubliner liqueur
We also tried a couple of small bottles of liquor my friend had won in some contest. The first one, a cherry rum, smelled like cough syrup to me — and tasted EXACTLY like it. It was so disgusting and the aftertaste, even worse.
The other was a Dubliner liqueur with honeycomb liqueur. It was pretty good although too sweet for me, at least after all that ginger beer.
Chilling on the porch
My last night my friend and I just sat on her porch chatting, drinking, and eating.
It was so simple yet so much fun. Sometimes the simplest things are.