My friend Ellen came to visit this past weekend, and as always we did a lot.
Mack & Mabel at the New York City Center
The main reason she came in was that she had a free ticket from her cousin for this show. I decided to go along since it was pretty cheap (about $35). On top of that, Ellen was kind enough to split my ticket with me.
The theater was absolutely gorgeous. I couldn't stop taking pictures: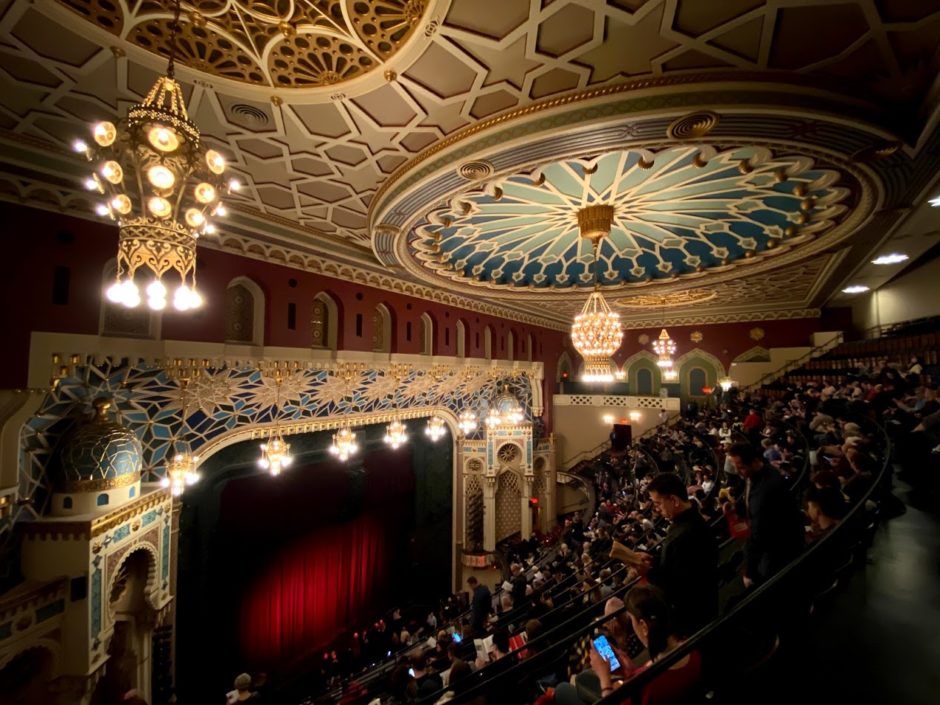 Originally called the Mecca Temple, the building seems to have been owned by the Shriners. What I noticed about the audience is that rather than tourists, it was full of New Yorkers. Plus it's a great deal: Broadway-quality performances for $35! Although you might feel like you're watching a show from the side of a mountain.
Which indeed I did at first. My fear of heights kicked in, and at first I so nervous, I had to turn sideways. But after the lights went down and the show started, I was fine.
The show was fun but also old-fashioned. The storytelling wasn't subtle. But like I said the performances were first rate.
Smorgasborg
On another day we checked out this food festival in Brooklyn. I've been to the outdoor one once, and it was very crowded. Because it's winter, now it's indoors, and it wasn't that bad, maybe because we got there kind of early.
It was pretty fun. There was a free whiskey tasting so of course we did that. For lunch I had the jianbing, the spicy version which was SO SPICY. Like I could barely eat it. Otherwise it was tasty. I also couldn't resist a coconut donut. It was huge and delicious.
Then I made the mistake of getting a stout beer. Even though I split it with Ellen, it still gave me a headache. I know: I'm a lightweight.
Fotografiska
We also had the chance to check out this newish museum. It's a bit pricey at $28, but we figured it's not like we're going to go all the time. I especially liked the Tawny Chatmon exhibit, Inheritance: