I wasn't planning on doing much traveling this year, but when my friend Yiannis invited me along on his trip to Chicago, I had to say yes, especially when I saw how cheap the flights were. (Who wants to go a freezing cold city in November? We do apparently.)
The Art Institute of Chicago
Of course I went to lots of museums, and the Art Institute of Chicago was by far my favorite. Before I went around, as is my tradition, I had lunch in their cafe. It was quite good and more reasonably priced than my other favorite museum, the Met. I had pozoloe for $6 with a piece of bread of 50 cents. I also splurged on a "s'more" parfait for a couple of dollars. It was SO GOOD. As for a beverage, I brought some (shhh) "thermos wine." (Our AirBnB was right across the street from a Trader Joe's so stocking up on groceries and cheap booze was convenient.)
And of course I loved the art. It was exciting to see some famous works in person, like American Gothic, Nighthawks, and Marc Chagall's American Windows (which I saw for the first time in the museum scene from Ferris Bueller's Day Off). I also enjoyed the Andy Warhol exhibit —
— and this one about artists and their relationships with Mexico, in particular the work of Ruth Asawa:
I also loved the arms and armory area:
Dare I say, more than the one at the Met.
I liked the museum so much I was tempted to go again since I hadn't seen the whole thing. However, it's king of expensive: $25 for general admission plus $7 for the special exhibit (the Andy Warhol retrospective, which I really didn't want to miss) plus $1 for each checked item. Since you're not allowed to carry around backpacks, you're in a way forced to check something. But next time I go to Chicago, I'm definitely going again.
Museum of Contemporary Art Chicago
Although I didn't get a lot out of this museum, it did have some very photographable parts: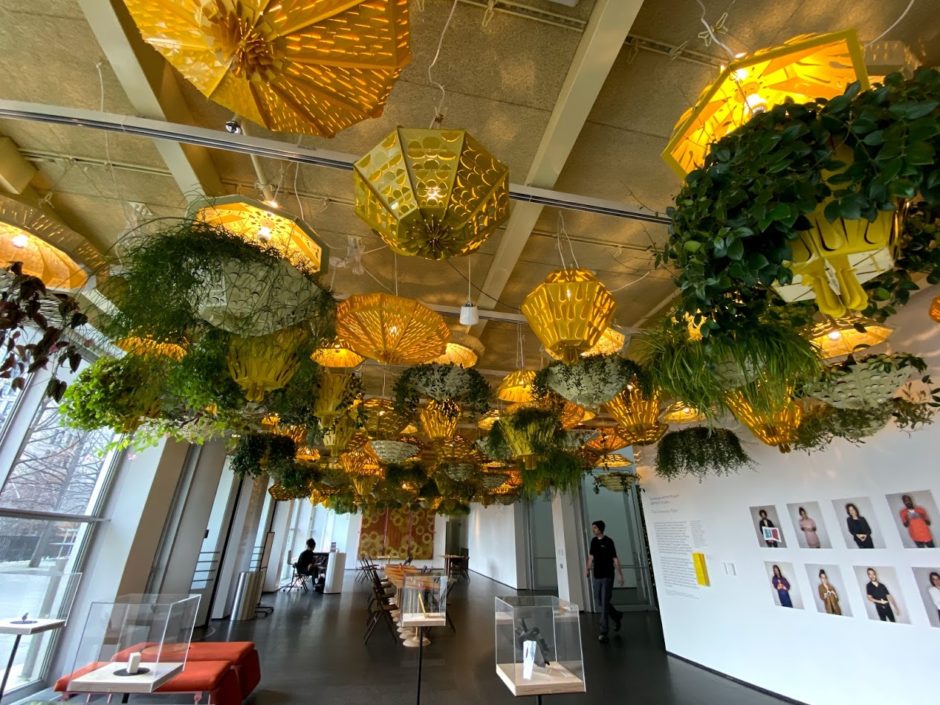 I also enjoyed my lunch: a kind of pizza biali with tomato sauce, cheese, and pepperoni. And only five bucks!
Greektown
We spent much of one day in Greektown, which was lots of fun. In addition to the National Greek Museum, which was pretty interesting, we ate at Artopolis, a combo cafe and grocery. It was really cute and spacious (most restaurants in Chicago seem huge). I tried a shot of a Greek liquer, and when we returned to buy a few groceries, had their traditional chicken soup. Yummy. I also bought canned grape leaves, these giant beans in tomato sauce, this Greek wine (which was just okay), and some chocolate. Fun!
Chicago History Museum
This museum was just okay to be honest. I think it's geared more for kids. Plus it didn't help that I might have had too much wine with my museum cafe lunch (burger and fries). I had had a trying morning because I schlepped all the way to this chocolate shop to get something for my mom, only to realize I had forgotten my wallet. So I schlepped all the way back home. Then it was sort of hard to find the museum. So I splurged on burger and fries, and downed probably two glasses of wine. Too drunk to absorb much Chicago history.
Chicago Cultural Center
I really loved this place. Plus it was free. The building is beautiful and had an architecture exhibit on several floors. I also happened to get there in time for a free building tour.
The tour guide was very nice and informative.
Other sights
We stayed not too far from Millennium Park so we saw the cool stuff there, like this:
And this:
And this: